Quick guide: How to Get an Audible Affiliate Link to Help Promote Your Business
Audible is an online audiobook and podcast platform that provides users with access to a world of audio content. Want to get an Audible affiliate link to help promote your business? Follow several steps below:
Pick the Affiliate Link of an AudioBook
Promote on your Website
Making a YouTube video
Promoting your article on Quora
Keep reading, and you will get more detailed steps.
Audible is a popular audiobook platform owned by Amazon, which dominates the audiobook market. If you want to become an Audible affiliate, you can join the Amazon Associates Program, as Audible is part of it. As an affiliate, you can earn money by promoting and selling Audible products through your own website, blog or social media channels. Bruce has become an authority on affiliate marketing, with a track record of success in promoting various products and services. Whether you're a beginner or an experienced affiliate marketer, Bruce has the tools and knowledge to help you succeed. This article will explain how to get Audible affiliate link and then how to help you start earning money today.
What Is An Affiliate Link?
Affiliate links are a way for influencers and content creators to earn income by promoting products and services. The Amazon Audible Affiliate Program, launched in 2015, is one such program that allows bloggers, freelancers, and influencers to promote Audible's services in exchange for a fixed bounty for every person who signs up for an Audible membership or purchases an audiobook. The program is powered through the Amazon Affiliates Program, which is a popular affiliate program used by many content creators. Audible, with its massive library of award-winning audiobooks in various genres, is one of the most popular audiobook platforms today. By promoting Audible through the affiliate program, content creators can earn income without having to create or sell products themselves.
Who Should Join The Audible Affiliate Program?
The Audible Affiliate Program is an excellent opportunity for content creators and influencers who are interested in reading and audiobooks. It is best suited for those who already have a large and loyal audience that might be interested in Audible's services. The program offers a vast selection of audiobooks in different genres, making it easy for content creators and influencers in various spaces to find something to promote to their audience.
Affiliates can promote specific audiobooks and earn a commission from those sales or promote the Audible membership and receive a commission that way. This flexibility makes it possible for content creators and influencers to tailor their promotions to their audience's interests and preferences. Overall, the Audible Affiliate Program is an excellent opportunity for content creators and influencers to earn income by promoting a high-quality and popular service like Audible.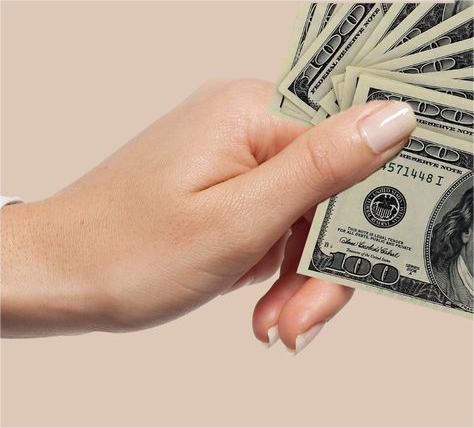 How To Join Amazon Audible Affiliate
To join Audible's affiliate program, you just need to follow a few simple steps.
Step:1 Join Amazon Associates
sign up for Amazon Associates, which provides instant approval. Once you're approved, you'll have access to your affiliate dashboard, where you can track sales and clicks and get your affiliate links. However, to keep your account active, you need to generate at least three sales within 180 days.
Step:2 Go to Amazon Bounty Program
To get started with the Audible affiliate program, head to the Amazon Bounty Program section in your affiliate dashboard. Here, you can join multiple programs to earn more money. Scroll down to find the Audible program, which may offer different commission rates depending on your country. Once you find the Audible program, you'll see your default affiliate link, which you can copy and start promoting on your website. Don't forget to add your associate ID to the end of the link.
Rules and Requirements
To become an Audible Affiliate, you must meet the requirements set by Amazon Associates, which include having an active blog, social media account, or free mobile app with original content. For example, a blog should have at least ten published posts of decent size in the last two months. A social media account should have at least 500 followers on approved sites such as Facebook or Twitter. Additionally, you must drive at least three successful sales within 180 days to keep receiving payments as an affiliate. It's important to note that having some sort of following or online presence is necessary to apply for the program.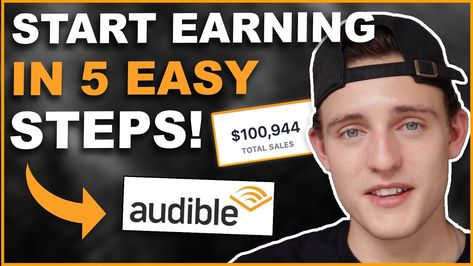 How To Make Money With Amazon Audible Affiliate Program
How To Make Money With Amazon Audible Affiliate Program
Making money with the Amazon Audible Affiliate Program is easy if you follow a few simple steps.
Pick the Affiliate Link of an AudioBook
First, pick an audiobook and get its affiliate link from your Amazon account. This link will direct potential customers to the product page on Amazon. If the customer decides to take a trial or purchase a subscription, you'll earn a commission.
To get the affiliate link, search for the book on your Amazon account and select the Audible option. Then click on the Text option in the sitestripe and copy the link. Once you have the link, you can promote it on your website.
Before promoting on any website, make sure to enter its URL in your Associate account website section. By following these steps, you can easily make money with the Amazon Audible Affiliate Program.
Once you have the affiliate links, the next step is to start promoting them to make money. The best way to promote any affiliate program is through a website. Therefore, it's important to have a website if you want to be successful in affiliate marketing or any other online business.
If you don't have a website yet, it's highly recommended to create one. There are many ways to promote the links on your website, but the best way is to write an SEO optimized article about the Amazon Audible marketplace. This will help your article rank on Google and attract traffic that can convert into affiliate sales.
To write an SEO optimized article, you need to focus on on-page SEO, which involves optimizing your article's title, meta description, headings, subheadings, and content for specific keywords. By doing so, your article will be more likely to rank higher in search engine results, which means more traffic and more potential sales.
Another effective way to promote the Amazon Audible affiliate program is by creating YouTube videos. YouTube is the second largest search engine on the internet, making it a great platform to attract potential customers.
To promote the affiliate program on YouTube, create videos related to audiobooks or any relevant topics. This way, you can generate traffic to your videos and drive leads or sales for the affiliate program.
Promoting your article on Quora
Quora is a powerful platform for promoting your website or affiliate programs. To promote the Amazon Audible Affiliate Program on Quora, all you need to do is engage in Quora marketing by answering questions related to audiobooks or the Audible marketplace.
By answering questions and posting in relevant Quora spaces, you can drive more views and traffic to your answers and ultimately to your website or affiliate link. Make sure to provide valuable and informative answers that offer real solutions to the questions asked. This will help establish you as an authority in your niche and drive more traffic to your website.
What Not To Do In The Audible Affiliate Program
Here are some things that you should avoid doing in the Audible affiliate program:
Misleading users: Do not mislead users by providing false or exaggerated information about the audiobooks or the Audible service. This can harm your reputation and the reputation of the Audible program.
Spamming: Do not spam your affiliate links in comments sections, social media posts, or emails. This can annoy users and make them less likely to click on your links.
Violating Amazon's terms of service: Do not violate Amazon's terms of service, such as by using black hat SEO tactics or engaging in fraudulent behavior. This can lead to your account being banned from the Audible program.
Using trademarked terms: Do not use trademarked terms or logos in your promotions without permission. This can lead to legal issues and harm your relationship with Audible and Amazon.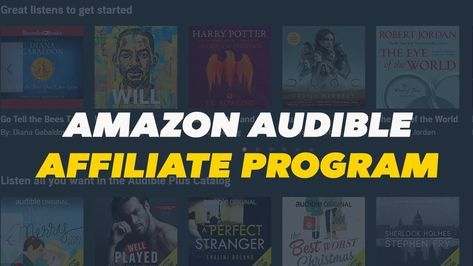 Conclusion
In conclusion, the Amazon Audible Affiliate Program can be a great way to monetize your website or social media platforms. To get started, you'll need to join the program and obtain your unique affiliate link. The key to success with this program is to promote your affiliate links effectively, such as by creating SEO optimized articles and YouTube videos. Additionally, Quora can be a great platform to drive traffic to your links by answering relevant questions. Always keep in mind that affiliate marketing requires time and effort to see results.
FAQs
Can You Actually Make Money From Audible?
Yes, it is definitely possible to earn money from Audible. There are several ways to do so, including becoming an affiliate, producing your audiobook, or narrating audiobooks through the ACX platform. As an affiliate, you can earn commission by promoting Audible products and services through your website, blog, or social media. Producing your audiobook can lead to passive income, as you earn royalties from each sale. Narrating audiobooks via the ACX platform can also result in earnings, as you may receive a payment per finished hour of narration. With the right strategy and effort, you can certainly make money from Audible.
How hard is it to get an Amazon affiliate link?
Becoming an Amazon affiliate is not a difficult process and can be done easily to start earning commissions. All you need is a website, application or a page that has a large enough audience, where you can promote Amazon products.
Are Amazon affiliate links free?
Does it cost anything to become an Associate? There is no charge to apply, and there is no minimum referral requirement or quota you must reach before earning referral fees with our program. You start earning right away.
Are Amazon affiliate links free?
Yes,there is no cost to become an Amazon Associate, and no minimum requirement or quota to earn referral fees. You can start earning right away after joining the program.